The excitement surrounding certain sectors lately is OFF THE RICHTER SCALE. We are, of course, referring to the latest targets by the so-called "Wall Street Bets" Army. I have never seen such enthusiasm about investing in my entire life. This must have been what the Dotcom bubble felt like, but with a twist. Lately, the primary targets of the WSB crowd has been very simple: Silver, GameStop, AMC and Dogecoin. In fact, many on twitter are rebranding their accounts with at least one of these logos. I don't blame them, this is undoubtedly one of the most interesting times to be alive, and an investor. For this article, we have decided to discuss the current interest surrounding the #silversqueeze, which has been trending several days in a row on Twitter. As a result, we have decided to take a position in First Majestic (NYSE: AG). Excitement is one thing, but we are interested in the real question: Is First Majestic Stock About To Go Parabolic? We think so…let's investigate the facts!
#SilverSqueeze Is Still Trending
I believe it is the fourth trending day of the now notorious #SilverSqueeze hashtag on social media. Generally speaking, excitement surrounding a particular asset tends to drive that asset price up.
In this case, the Silver Squeezers are energized like I have NEVER seen before. See Twitter trend below. Long live Doge and Silver!
This is so true, in fact, that silver bullion sellers are (allegedly) overwhelmed and having extreme difficulty keeping up with demand.
According to Bloomberg:
Retail sites were overwhelmed with demand for silver bars and coins on Sunday, suggesting the Reddit-inspired frenzy that roiled commodities markets last week is spilling over into physical assets.

Sites from Money Metals and SD Bullion to JM Bullion and Apmex, the Walmart of precious metals products in North America, said they were unable to process orders until Asian markets open because of unprecedented demand for silver.
Check out the actual screenshots from the company websites: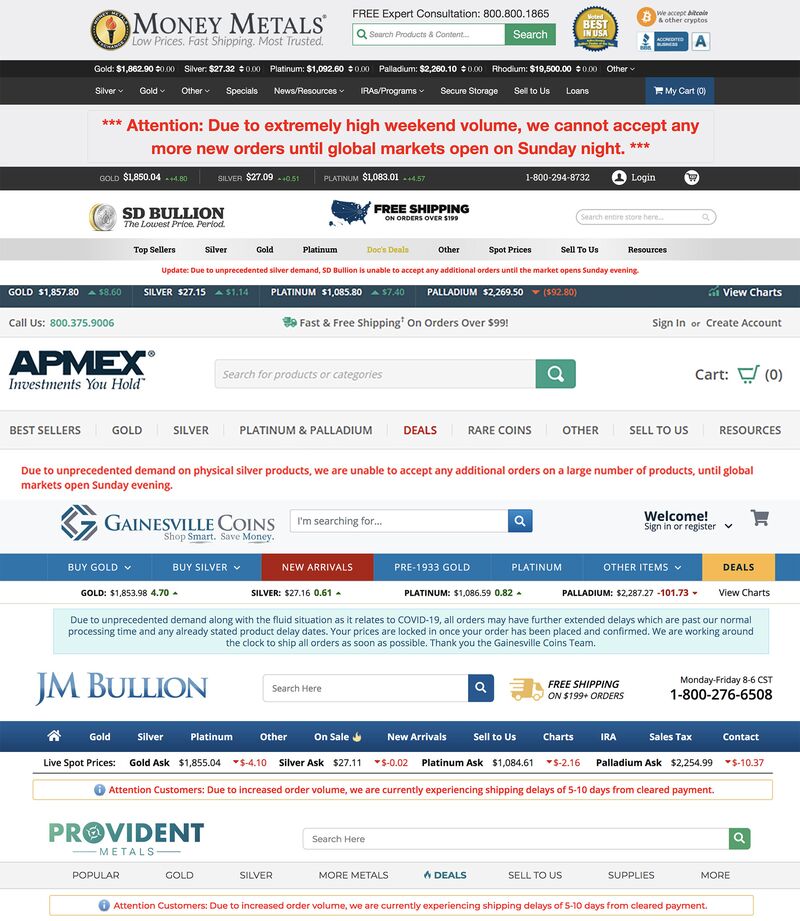 SILVER GANG 4 LYFE.
The Case for AG Stock To Go Parabolic
First Majestic Silver Corp ($AG) is a silver miner poised to benefit from this frenzy of buying.
From the company website:
First Majestic owns 100% of three producing silver mines in Mexico; the San Dimas Silver & Gold Mine, the Santa Elena Silver & Gold Mine, and the La Encantada Silver Mine.

Management feels strongly that investors will continue to witness another dramatic bull market in precious metals over the coming years. For this reason, a focus to continue to develop and increase production at its core assets will continue. 
Good to know management is pretty bullish on Silver. Followed by the emerging Silver army on social media. Starting to feel like somewhat of a war, or revolution…and it is AWESOME.
Just last week, prices of multiple silver miners and ETFs shot up significantly, including First Majestic, Hecla Mining, SLV etc.
Based on the excitement we have witnessed this weekend, this trend is likely to continue, and accelerate.
Remember, silver futures are one of the heavily manipulated and shorted markets in the world.
Just recently, JP Morgan settled a massive silver manipulation lawsuit.
In reality, this was a slap on the wrist, considering how deep the manipulation goes. No one really the extent, but if what we are seeing in physical prices compared to futures, the undervaluation is extreme.
Overdue For A Silver Squeeze
Judging by how wild the recent moves in GameStop, AMC and Doge have gone, it is likely that AG will go bananas this week.
By bananas, I mean parabolic, and this is just an observation based on the enthusiasm surrounding silver, mining stocks and their derivatives.
GameStop was pushed several thousand percent in a few weeks, reaching over $400 from a low of $3 in March 2020. AMC advanced about 1000% in 7 trading days, and Dogecoin shot up 1000% in a few hours. All are up significantly since the March lows.
In fact, the squeezes are so wild, trading platforms like Robinhood had to limit access to purchasing these assets. Unprecedented…
If the GME AMC and DOGE pumps correlate to a pump in Silver stocks, we might be looking at $AG $100+. While it may seem that these miner prices have been suppressed for so long, now may be the time where the balance of power changes.
For this to occur, we need a major move in silver futures. We are watching prices very closely and expecting a major breakout to $150-200/ounce. That would be LEGENDARY.
We see now the power of hundreds of thousands of manic social media accounts working together to create a gamma squeeze in these assets.
This time…may drive the price up significantly.
As a result, we have taken a moderate sized position in AG and SLV. BULLISH.
Let's see what happens this week, we will keep you updated!
Support and Stay Up To Date With Parabolically
What's going parabolic next? Subscribe to Parabolically for the latest analysis on crypto and stock predictions!
Like this content? Donate Dogecoin and Bitcoin Cash to support us!
Dogecoin Wallet: DNxsABknQCQA32TWmPStha1tVj4nfsVfwN
BCH Wallet: qzwl082g83r9crkuff8z4j40rt7jsllnws6s5fyeph
Have you started trading stocks and crypto yet? Use this link to get free stocks and trade for free on WeBull.
Don't like WeBull? Use our Robinhood Link for free stocks (and trade crypto if you are in a permitted state).