The Coinbase IPO has finally launched! The stock opened up over 50% on debut, only to immediately flop. Thankfully, the day is not over! Just recently we wrote about the Coinbase IPO here, predicting this would happen. Obviously, we are way ahead of the curve on this one, considering all the bullish analysts out there pumping the stock. Just yesterday, we had an overly bullish analyst give the stock a strong buy rating and $600 IPO price target. LOL. Let's analyze the situation below and identify why a $600 price target is beyond absurd.
IPO Flop
As of this writing, Coinbase is trading around $330/share. Earlier in the day, the stock hit a high of approximately $430/share. This is down about $100 from the highs…not stonks…
See chart below:
This was pretty easy to predict, considering the valuation. See explanation in the next section.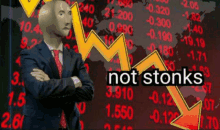 Caveat Emptor
If you did not read our first article on Coinbase, you probably should.
Although we are very bullish on the stock in the long run, we outline why buying the IPO would be a horrible idea.
See the quote here:
Although we are very bullish on the company long term, we need to add a big CAVEAT EMPTOR (buyer beware) on this one. As with many IPOs…remember that the current anticipated valuation is quite excessive.
No need to rush, trust us, the stock will still be there.
In fact, one of the best ways to make money on stocks is to wait for the initial IPO dip and buy when everyone gets shaken out of their position. I have personally made A LOT of money this way and I highly recommend it.
And if you bought the top here, don't worry. Despite the EXTREME overvaluation, it will come back. It may take some time, but crypto ALWAYS comes back.
You just have to get in at the right price and not watch it for a long time.
Conclusion
As a result of this huge flop, the cryptocurrency stocks are getting hit as well. This is not a great situation to be in, considering this was one of the most bullish weeks of the year. Riot Blockchain and Marathon Patent Group are sustaining heavy losses today in solidarity with Coinbase flopping.
But don't worry, we will be updating shortly when the coast is clear. Also, not a bad time to buy the dip on some of these crypto stocks, considering Bitcoin and the other cryptos just made new all time highs.
Look out for our Bitcoin Cash and Dogecoin articles coming up!
Oh, and you should subscribe if you want to avoid getting trampled on your trades. We kind of know what we're talking about…
In any case, this is just a general update, check back later for a better outlook for the stock and when you should actually buy it.
Oh, and obviously a Dogecoin and Bitcoin Cash article is coming later today or tomorrow!
Support and Stay Up To Date With Parabolically
What's going parabolic next? Subscribe to Parabolically for the latest analysis on crypto and stock predictions!
Have you started trading stocks and crypto yet? Use this link to get free stocks and trade on Robinhood (and crypto if you are in a permitted state) or WeBull.
Follow our Trading Card eBay store for the latest Pokemon, Yugioh, Dragon Ball Z (and more) rare trading cards!
Like this content? Donate Dogecoin and Bitcoin Cash to support us!
Dogecoin Wallet: DNxsABknQCQA32TWmPStha1tVj4nfsVfwN
BCH Wallet: qzwl082g83r9crkuff8z4j40rt7jsllnws6s5fyeph